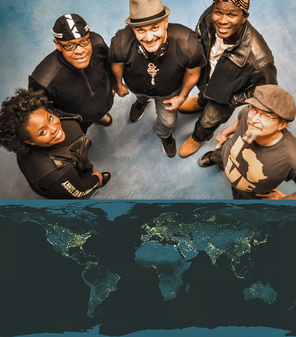 One World, One Beat ... Global Heat"
A nonstop funk rockin' soul experience!
Fresh Neo-Soul/R&B music spiced with funky beats and high-energy break dance f
eaturing soulful vocalists, MCs, and champion b-boys backed by a hot live band.
Based in Seattle (USA), band members have performed in more than 30 countries worldwide throughout North America, SE Asia, Australia, and Europe. Wherever they go, Global Heat's show brings audiences to their feet.
The band is currently working with producer Richard Garcia whose credits include Lady Gaga, Destiny's Child, Snoop Dogg,
R. Kelly
,
KRS-One
,
Ludacris
,
top Asian pop bands, and several platinum-selling albums.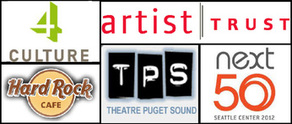 ​Awards
Winner of juried
Jammin' Challenge
produced by Seattle Wave Radio and Hard Rock Cafe.
'For A Lifetime' video received People's Choice Award at 2017 Bellingham Music Film Fest.
Awards from Seattle Next50, 4Culture, Theatre Puget Sound, Artist Trust, and more.
Reviews
Performing arts Presenters have called Global Heat's show "a riveting performance" and "a wonderful cultural event – bridging the gaps between generations, color, culture", with music that is "mystical, magical, majestic and with a message".
"Truly remarkable and wonderful original music." Joyce Taylor, King 5 (NBC) TV
"the best of the Hip Hop, Jazz, R&B, and World Beat styles" KLEW (CBS) TV
"Pretty wild! This lady couldn't stop Dancing" Seattle in Hi Def
"Global Heat and a cadre of other stellar local music artists put on a wonderful show for a brilliant cause.... music education for future generations." Greg Roth, Seattle Music Insider
"high points included… Global Heat." Paul de Barros, Entertainment Reviewer, Seattle Times
Featured Performers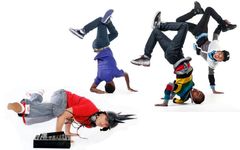 JUSTICE
aka Justin Murta has toured the world as
MC, b-boy, and DJ. In addition to front-line performance with Global Heat, he
has worked with
Usher
and
Chris Brown
; and shared the stage with
Cee Lo Green (The Voice), Macklemore, Method Man, Crash Test Dummies, Blake Lewis, members of Wu Tang,
and others. Justin has headlined events with audiences up to 100,000.
PROFESSOR ICEE
aka
Jairus Green is an
MC, b-boy, and DJ who has also worked with elements of Rock Steady Crew, Fraggle Rock and MTVs ANBDC 'Fresh Select'. Jairus is author of The Hip-Hop Handbook, a performance and teaching program aimed at building confidence, self-esteem, and artistic
expression
in youth.
MSJR
aka Marvin Shields Jr, is
lead vocalist,
bassist, guitarist, and musical director for Global Heat. In addition to
Global Heat
, Marvin has toured internationally with the world-class
U.S. Air Force band Tops in Blue,
including opening for the incomparable
Al Green
. He has worked with
Con Funk Shun
,
Roger Fisher
(co-founder of Heart),
Klyntel,
Reji Lefluer Band, ColdNote, and other projects.
Special Guest Artists on Select Shows
​
CHRIS ANDERSON
is is a producer, drummer, and photographer/videographer who has toured globally with the
Hypnotic Brass Ensemble, MosDEF,
and
Gorillaz
. He has worked as a studio drummer for
Able Garibaldi, R. Kelly, Erykah Badu
and others. ​
SHAINA SHEPHERD is a vocalist and songwriter who has performed with jazz, gospel, rock, soul and hip hop bands. 'Shay'
performed America the Beautiful with the Seattle Symphony in their Music Beyond Borders concert.

DOG POUND
b-boy crew (aka Vicious Puppies) features
protégés of the world renowned Massive Monkees
. Dog Pound inspires and empowers youth through dance performance and teaching. The group combines high-energy b-boy free-styling with choreographed, synchronized dance. They have
opened for Kendrick Lamar, and performed in Dance This
and
Global Dance Party
productions by
Seattle Theatre Group
.
AWAL ALHASSAN
is a master
drummer, dancer, and choreographer from Ghana, West Africa. Born and raised by a Dagomba performing arts family, Awal worked throughout Africa with top traditional arts groups such as the
Ghana Dance Ensemble
, the
National Theatre of Ghana
, and the
Center for National Culture Dance Troupe
.